Senior Pastor / Head of Staff
Pastor Wayne is passionate about the local church and its God-given mission in the world. Wayne grew up on the Central Coast of California where he came to know Jesus Christ through the lives of others, including his high school sweetheart and wife Robin. He served three churches in California and Ohio before becoming our pastor in 2006. He has a Bachelor of Science degree in Business Administration (MIS), a Master of Divinity degree from Princeton Theological Seminary and a Doctor of Ministry degree with a concentration in Gospel and Culture from Columbia Theological Seminary. Wayne loves being involved in our community, including serving as an Adjunct Professor at Denver Seminary teaching courses in evangelism, discipleship and leadership; he also served as the lead chaplain for Littleton Police Department. His wife Robin is a Licensed Professional Counselor (LPC) with her own practice, Momentum Mental Health here in Littleton. Wayne and Robin love spending time with their three adult children, enjoying the outdoors and traveling.
Eugene has been a pastor most of his life. Even when he worked in carpentry many years ago, he was the one whom many of his coworkers came to for counsel, help, and a listening ear. Most of them were not Christians. Yet Eugene was able to care for them and even show them glimpses of Jesus. This happened so consistently, his life-long friend and future wife Dee Dee, saw it as God's call into pastoral ministry. After Eugene and Dee were married, the Denver construction boom busted and Dee Dee encouraged Eugene to go to college. From there he earned a BA in Psychology from the University of Colorado at Denver, a Masters of Divinity from Denver Seminary, and (much later) a Doctoral degree from Fuller Theological Seminary. Along the way, God gave them three children, Katie, Brendan, and Emmy. They've enjoyed hiking, camping, reading, fishing, learning, hunting, making new friends, and serving God together. Eugene and Dee Dee are now Papa and Nana to Katie's five children. Eugene has served as pastor in seven churches and two para-church ministries. He says, "Walking shoulder-to-shoulder with people as we grow in Christ together is a delight and an honor." His call as Parish Associate at St James will not be church number eight, however, because this is full circle for the Scotts. Eugene served as youth director at St James from 1986-1990 while Dee Dee served as the children's choir director. Eugene's ordination service was held in St James' "new sanctuary" on June 24, 1990. Eugene and Dee Dee, both born in west Denver, attended school together and have been friends nearly fifty years. They have only been married for forty-two years, however. Dee Dee retired from teaching in 2019. She taught English as a Second Language to adults as well as kindergarten and first grade. They have set out to hike the Colorado Trail one segment at a time over the next few years. Eugene is also a counselor, coach, and writer. His poetry, stories, and essays have been published in Christianity Today, The Edge of Faith, Bugle Magazine, Leadership Journal, Youth Worker Journal, The Vail Daily, Rev, Family Life Today, Youth Specialties Ideas Books, and multiple Christian education journals. He is currently working on a book titled Dancing in the Dragon's Jaws: What Fear Is Trying to Tell You and Five Steps to Deal with It as well as a novel titled Unlocking Eden's Gate.
Director of Children's and Youth Ministries
Matthew has been working with children & youth for the past 10 years, both as volunteer and a professional. His educational background is in the arts & education. Growing up in Oklahoma as 1 of 5 children, Matthew has always enjoyed being a part of an even larger church family. Having moved to Colorado in 2020, he looks forward to experiencing Colorado's culture and outdoors.

As of 2021, Matthew will be married to Misty Gossom for 10 years. Together, they have two children, Bruce and Hazel. They enjoy playing board games, tennis, going on campouts, and playing music together as a family. The entire family is ready to actively participate in the St James Ministry!


Elizabeth Kuykendall-Kunz
Director, Worship & the Arts
Liz has been participating in church music since she was in 2nd grade. From playing piano, flute, and handbells to singing in choral, gospel, a capella, and praise groups, she has always found joy in praising God through music. During high school and college, she toured with the Rapture Ringers and Kokopelli Handbell choirs. Before moving to Denver, she was the Music Director at the Western Colorado Performing Arts Conservatory for 2 seasons and the Pit Director of the inaugural season of the Greenshoe Theater Company. She has been teaching piano, flute, bassoon, and more for 25 years. She and her husband, Brian, have been attending St. James since 2002. They now attend with their 3 sons.
Office Manager & Childcare Coordinator
Becky and her family have been members at St. James for about 6 years. She's been married for 13 years to her favorite person, Nate. Together they have 3 kids- Lilly, Harrison and Audrey. All 5 can brag about being Colorado Natives. Becky is passionate about Jesus, her family, supporting moms and organization! She loves musicals, dance parties in the kitchen, and playing video games with her kids. Becky is excited to be apart of the amazing staff at St. James.
Neil's first education into sound systems was at the age of 8 when he was asked to record Sunday sermons to be put on the local radio station. Neil is our full time volunteer Technical Manager overseeing the daily functions and operations of the Audio/Visual equipment, the church internet and WiFi connectivity, computer network and telephones here at St James.
I am so glad that Cindy brought me to this place because of an experience that she had as a teenager here at St James. It was evident within a very short time that God wanted us to be here. I have enjoyed the time in the choirs and men's group where we have grown in the Lord as a group of people seeking God's direction. I am happy to be able to serve as a Deacon, Elder, and Elder Commissioner representing St James in our world, whether in this building, in the Denver Presbytery, on our block, or at the corner café or restaurant.
Carole is married with 4 kids – AJ (26), Sean (23), Samantha (21) and Megan (18). She has been in Colorado for 21 years. She received her MBA from the University of Utah, and has had many positions in finance and accounting. Carole is very passionate and involved in the Rett Syndrome community since her daughter, Samantha, was diagnosed with Rett Syndrome when she was 5. She helped create the Rocky Mountain Rett Association (rmrett.org) which created a Rett Syndrome Clinic at Denver Children's Hospital. Carole loves the outdoors including hiking, running, and biking. Carole is very excited about being a member of the St. James staff.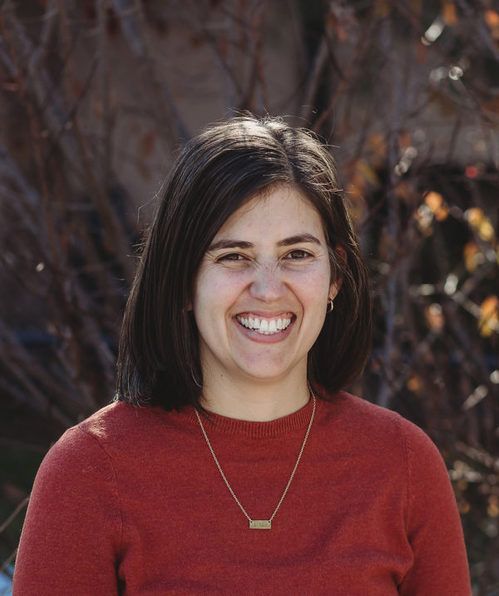 Director, St. James Preschool
Hillary has been working in the field of Early Childhood Education for the past 6 years. She believes that a child's early experiences provide the foundation for future learning and development, and she finds great joy in nurturing relationships with children that provide the tools they need for their future. St. James Preschool is committed to equipping children with the tools that will provide a strong foundation, inspiring a lifetime of learning. Hillary finds that leading the Preschool Ministry at St. James is especially meaningful because she gets to be a part of cultivating a caring, supportive environment for children and their families that is rooted in faith and in God's love.
Hillary has earned a BA from Taylor University and a Director's Certificate from Red Rocks Community College. She has been married to her husband Joel for 17 years and has two teenage daughters. Hillary enjoys reading, trying new recipes, drinking tea, and traveling.